Veggie Crumble Pockets With Creamy Mango Chutney
RonaNZ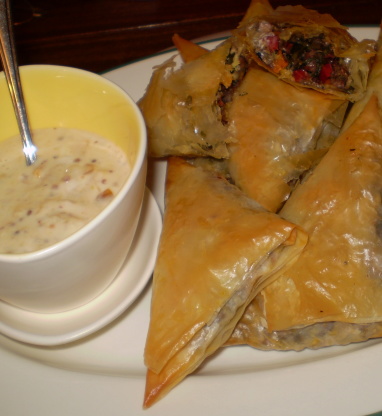 I made this recipe up to find something to serve at an all-vegetarian event that would satisfy people; I needed something fantastic-this is what i came up with, and it's great!

Top Review by RonaNZ
As a vegetarian recipe, this does not fall into the '70s nut loaf category! That is a good thing. Much tastier than the old nut loaf but I felt the sun-dried tomatoes were too much of a good thing. I also felt that the artichokes were wasted in this dish since you couldn't taste or identify them. I would make this again but cut down on the tomatoes, leave out the artichoke and increase the spinach (was it supposed to be a cup of chopped fresh spinach?) . It's a good looking recipe and I think would satisfy meat-lovers too. They wouldn't even know that there was no meat. The creamy mango chutney was superb! not in the instructions: I buttered three sheets of phyllo and then cut into 4 strips so the yield is 12 triangles. Also I added the bread at the same time as the spinach. I used very small peppers and it still made a lot of filling so I tried to cram as much as I could into each triangle.
1

cup spinach, finely minced

1

(5 ounce) jar sun-dried tomatoes, slivered

1

small shallot, chopped

1

(5 ounce) jar artichoke hearts packed in oil, drained and chopped

1

red pepper, finely chopped

1

orange bell pepper, finely chopped
cayenne chili pepper flakes

1

cup mushroom, chopped

9

pieces phyllo dough
pecans, chopped (2 handfuls)

2

slices whole wheat bread, crumbled
salt & pepper
Sautee chopped shallots & garlic on medium heat in 1 tsp olive oil for 2 minutes, stirring frequently.
Add mushrooms, orange & red peppers, shallot, pecans and tomatoes. Cover and cook for 4 minutes, untouched.
Remove from heat and add artichokes, spinach, cayenne pepper, black pepper, and salt.
Cut phyllo dough lengthwise into 4 long strips.
Spoon approximately 1 tablespoon filling about an inch from the end of the phyllo strip.
Fold phyllo over filling at an angle and continue folding like folding a flag until you have a triangle. Repeat with remaining phyllo and filling.
Bake at 350 degrees for 10 minutes or until browned.
Chutney Sauce:.
1 cup Mango Chutney.
½ cup Mayonnaise.
A dash of curry powder.
3 tbspns plain yogurt.