Vegan Pumpkin Pie Pancakes
Susan R.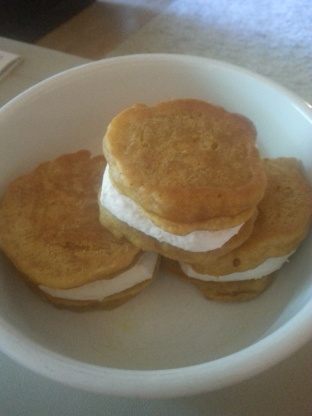 From Vegan Planet, these pumpkin pie pancakes are a-ma-zing! You can substitute real milk if you don't mind them not being vegan, and you can also substitute 1/2 teaspoon cinnamon plus 1/4 teaspoon ginger and 1/8 teaspoon EACH nutmeg and cloves for one teaspoon of pumpkin pie spice.

Loved these pancakes! So easy to make and a great variation on plain pancakes. Though I didn't try it this time, I might skip the oil next time. I think the pumpkin puree would be a good subsitute. I'll report back...
In a large bowl, combine the flour, sugar, baking powder, salt, and pumpkin pie spice and set aside.
In a separate bowl, combine the soy milk, canned pumpkin, and corn oil and process until well blended. Pour the wet ingredients into the dry ingredients, mixing with a few swift strokes until just combined.
Use a skillet to make pancakes as you would with regular pancake batter.