Prose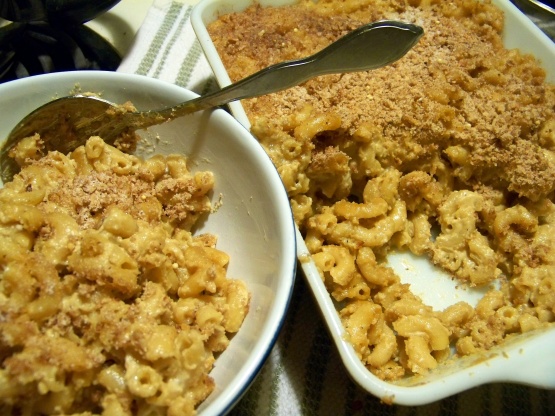 Gourmet Mac' even the devout cow cheese lover will devour!

Top Review by Prose
This is a keeper for sure! When I found this recipe, I couldn't wait to try it because I LOVE cooking with Vegenaise, but this was even better than I had hoped. It was EASY to throw together and oh so comforting. I used whole-wheat pasta, halved the recipe, and added a little garlic powder and paprika. Just between you and me: I may or may not have enjoyed the cold leftovers for breakfast. ;)
Pre-heat oven to 350.
Boil noodles according to package directions, then drain.
Add the jar of Vegenaise.
Add the yeast.
Add the salt and pepper.
Stir well while adding milk substitute until creamy.
Transfer to baking dish.
Sprinkle bread crumbs on top.
Bake uncovered for 30 minutes or until golden brown.