Vegan Golden Vanilla Cupcakes
SharonChen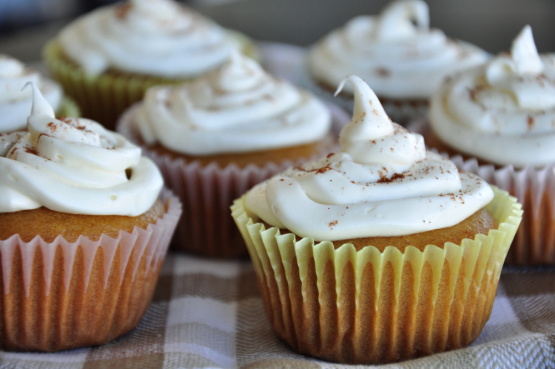 This cupcake recipe is from the book Vegan Cupcakes Take Over The World. You can make this recipe using soy margarine or canola oil. IF USING OIL INSTEAD OF MARGARINE DOUBLE THE SALT. I have only used the canola oil in this recipe and the results were surprisingly delicious. The texture is good and so is the flavor.

Absolutely brilliant. I gave a simple vanilla iced version of this cupcake to my VERY SCEPTICAL brother (he refuses to eat anything dairy free) without telling him that they were vegan- he ate four. RESULT!
Preheat oven to 350F and line muffin pan with paper liners.
Whisk the soy milk and the vinegar together and let sit a few minutes until curdled.
IF USING MARGARINE:.
Sift the flour, cornstarch, baking powder, baking soda and salt into a large bowl and mix.
In a separate large bowl,use a handheld mixer at medium speed to cream the margarine and sugar for about 2 minutes until light and fluffy, but don't beat past 2 minutes. Beat in the vanilla and other extract, if using, alternate beating in the soy milk mixture and the dry ingredients, stopping to scrape the sides of the bowl a few times.
IF USING OIL:
Beat together the soy milk mixture, oil, sugar, vanilla, and other extracts, if using, in a large bowl. Sift in the flour, cornstarch, baking powder, baking soda and salt and mix until no large lumps remain.
Fill cupcake liners two-thirds of the way and bake for 20 to 22 minutes till done. Transfer to a cooling rack and cool completely before frosting.