Valentine Chocolate-Cherry Ice Cream Bombe
Prep 1 hr 20 mins
Cook 0 mins

Impressive — and a breeze to put together. The bombe is just a layering of purchased ice cream, sorbet and cookies, and it's topped off with a store-bought fudge sauce spruced up with chocolate chips and brandy. For Valentine's Day, dress up the dessert even more with chocolate curls and maraschino cherries. Begin preparing this a day ahead as this needs to freeze for 24 hrs.
1 (16 ounce) jarpurchased hot fudge
1 (12 ounce) package semi-sweet chocolate chips
3 tablespoons water
1⁄4 cup brandy
3 pints Ben and Jerry cherry garcia ice cream, slightly softened
1 1⁄2 pints chocolate sorbet or 1 1⁄2 pints chocolate cherry sorbet, slightly softened
1 (9 ounce) package chocolate wafer cookies
Directions
Stir first 3 ingredients in heavy medium saucepan over medium-low heat until melted and smooth.
Remove from heat.
Whisk in brandy.
Cool.
Line 10-inch-diameter, 10-cup metal bowl with plastic wrap, extending over sides. Spread cherry-vanilla ice cream over inside of bowl to within 3/4 inch of top edge, leaving center 6-inch-diameter hollow. Freeze 30 minutes.
Fill hollow completely with sorbet; smooth top.
Overlap half of cookies (about 22) atop ice cream and sorbet, covering completely and pressing gently.
Spread 1 cup fudge sauce over cookies. Overlap remaining cookies atop sauce.
Cover; freeze bombe overnight.
Cover and chill remaining sauce.
(Can be made 3 days ahead. Keep bombe frozen. Keep sauce chilled.).
Rewarm remaining sauce over low heat, stirring often. Turn bombe out onto platter. Peel off plastic. Cut bombe into wedges. Serve with remaining sauce.
Most Helpful
This was really a nice treat. I normally don't do ice cream desserts, and I am so glad I tried this one. I left out the brandy and just added a little more water. I also was unable to find chocolate sorbet, so I had to use chocolate ice cream. It all went together perfectly and easily! Thanks for posting. Made for Please Review My Recipe Tag Game.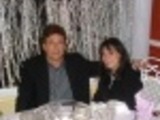 This was awesome. I did cut it down and made it smaller. I also had to sub chocolate brownie ice cream for the chocolate sorbet because none of our 3 main grocery stores carried any but other then that I followed it exactly.
Well, I TRIED to hold off making this until Valentine's Day, but couldn't wait any longer! This is really OUTSTANDING, not only to make, but to view the finished product AND to eat it! And, by the way, There were 4 of us who ate the whole thing, so does that mean the recipe actually only makes 4 servings, or......! I'm a big fan of Ben & Jerry anyway, so I started off liking this! I might even make it again in another 4-5 days, just for the big Val Day! Thanks so much for sharing!