Uncle Bill's Barbecue Tandoori Chicken
C.C619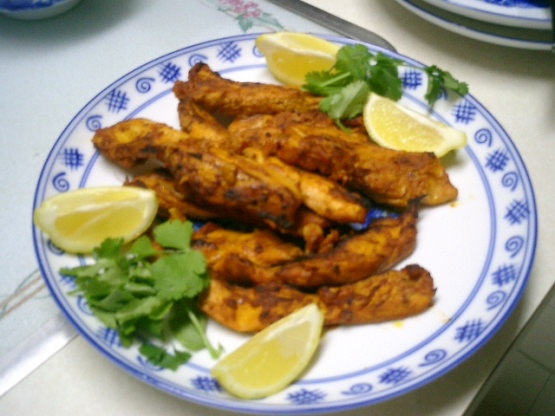 I had holidays in Fiji and really enjoyed the Indian style of cooking. Although the chefs would not give me the recipes for any of the food they prepared, I took great notice as to what they may have used and finally developed my own style of Indian cooking. This recipe is one of many I have developed and has been a big hit even with the East Indians in our area.
Remove all skin and fat particles from chicken pieces and discard.
Using a sharp knife, make several incisions about 1/4" deep in each chicken piece.
In a large mixing bowl, combine tomato paste, ginger, minced garlic, pepper flakes, chili pepper, yogurt, coriander, cumin, salt curry powder, saffron strands and olive oil; mix well.
Add chicken pieces to mixture and turn to coat on all sides.
Cover and marinate chicken for at least 5 hours or overnight; keep in the refrigerator.
Spray barbecue grill with a no-stick vegetable spray.
Preheat barbecue to medium-hight heat.
Place chicken pieces directly on grill.
Barbecue on medium-high heat for 20 to 25 minutes, turning once.
While barbecuing, baste chicken with any left over sauce.
To ensure that the chicken is fully cooked, take a knife and cut into the thickest piece of chicken; there should be no pink showing.
Serve hot or cold.
Saffron strands may be purchased at most super markets.
I do not use saffron powder.
If desired, leave the skin on the chicken pieces.
You may also make this recipe using all chicken breasts, (boneless or bone-in).