gailanng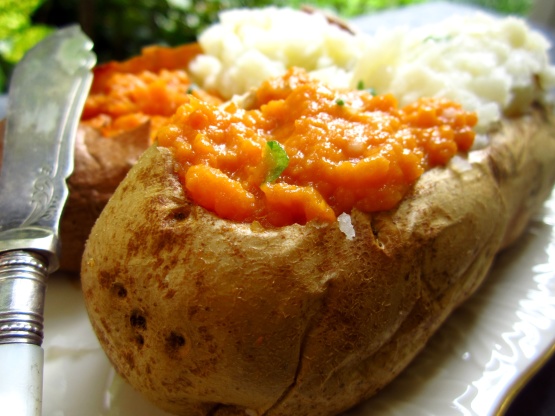 This came from an early addition of TOH. It is an easy do-ahead, and bake just before serving. I have found that the scooped out skins, especially the sweet potatoes, collapse and are not very appetizing looking. Lately, I have served then in narrow ramekins, and they look better on the table.
Pierce russet and sweet potatoes with a fork.
Bake at 400°F for 60-70 minutes or until tender.
Set sweet potatoes aside.
Cut 1/3 off top of russet potatoes, leaving skins intact.
Place pulp in bowl, mash with butter until smooth.
Add 1/3 cup sour cream. milk, cheese, 2 Tbsp chives, and 3/4 tsp salt and mash until creamy.
Cut off top of each sweet potato; scoop out pulp, leaving skins intact.
Mash pulp with remaining sour cream, chives, and salt.
Stuff mixture into 1/2 of each potato skin.
Spoon russet potato filling into other half.
Place on baking sheet.
Bake at 350F for 15-20 minutes, or until heated through.