JustJanS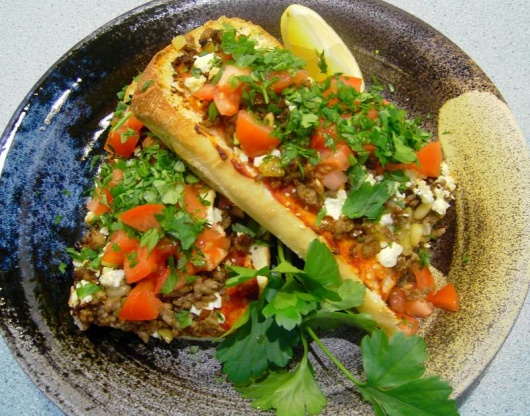 I've made this a few times now, it's quick, and better than take-aways. Be sure to use the lemon, it really adds to the dish.

Top Review by ImPat
My only adjustment was to use 2 1/2 small turkish bread loafs between 3 of us but otherwise followed through and we all thoroughly enjoyed and a style of pizza we had never eaten before. Thank you JustJanS, made for Ausie/Kiwi forum Recipe Swap #64 May 2012.
Preheat the oven to 200c.
Line a baking sheet with baking paper.
Heat the oil in a heavy based frying pan and cook the onion and garlic for 5 minutes or until soft.
Add the coriander, cumin and mince.
Increase the heat and cook, stirring for about 5 minutes or until the meat has browned.
Add the nuts and salt and pepper and cook for another 2 minutes, stirring.
Cool.
Place the bread on the baking sheet and spread with the tomato paste.
Sprinkle over half the feta, then the mince.
Sprinkle with the remaining feta.
Bake for 15 minutes or until warmed through.
Top with tomato and parsley, then cut into 4 wedges.
Serve with a wedge of lemon to squeeze over the top.