Prep 10 mins
Cook 30 mins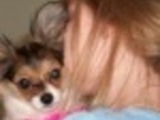 Turkey combined with dried cranberries with a creamy dressing...all served on a croissant. This is my favorite sandwich and I look forward to the leftover turkey from holidays just so I can enjoy this sandwich. Cook time represents the chill time.
Directions
In one bowl combine turkey, cranberries, celery, and onions; mix well.
In another bowl mix mayonnaise, yogurt, and lemon juice together. Sprinkle to taste with salt and ground pepper. Pour over turkey mixture and stir all together.
Refrigerate 1/2 to 1 hour. Spoon turkey mixture on sliced croissants. Add lettuce and croissant top.
Most Helpful
Best turkey salad I've ever eaten. Served them open face on a soft roll with a lettuce leaf top...could eat more turkey salad that way! The combination of flavors is perfect & successfully disguised the over-cooked cold turkey I was trying to use up. Next time I'm going to add some toasted almond bits just to gild the lily. Thanks so much.

What a fabulous recipe. I multiplied everything by 7 as I had 14 cups of shredded turkey from a 13 pound bird and was feeding 30 people. Our guests just raved! I also used low fat sour cream and low fat mayo. Since the sweetened cranberries were sticking together, I dusted them with flour. We plan to substitute chicken breasts for a future lunch.
I've made this twice now, and it's a wonderful recipe. I brought it to our Toastmaster's party last night, and everyone loved it. I only used mayonnaise, since I didn't have any yogurt. I used recipe #247637 to bake turkey thighs to use for the sandwiches. Thanks Sandy, this is a definite keeper!