Tunisian-Style Roasted Beet Salad With Harissa
UmmBinat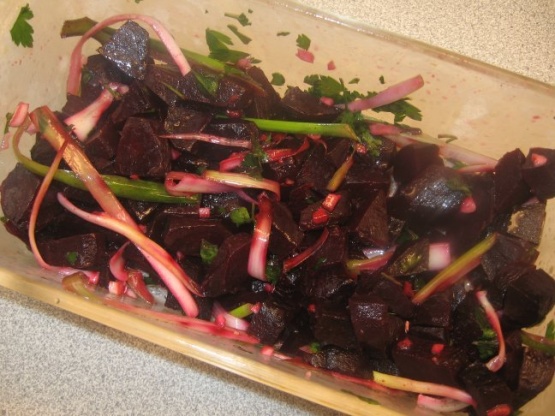 From The Mediterranean Vegan Kitchen. This spicy salad is served either slightly warm or at room temperature. If you do not care for beets, yams or potatoes can be substituted.

5 stars this is a nice and colourful salad eaten the same day. It becomes too oniony and pink a day after sitting in it's dressing. I left chili peppers out of the homemade harissa as we don't like hot-hot. We ate it at room temperature and it was a salad I would make again.
NOTE*: If using yams or potatoes, scrub well, remove skin and cut in half or thirds depending on size.
Preheat oven to 400 degrees.
In small non-reactive bowl combine the salad dressing ingredients and whisk well. Set aside.
In a large shallow pan, toss the cut up beets lightly with the olive oil to coat. Transfer the beets to a large baking sheet and cover the baking sheet tightly with aluminum foil.
Bake the beets for about 30 minutes or until the beets are very tender when pierced with a fork.
Remove from oven, set aside to cool for 5 minutes.
Then cut beets into 1/2" cubes.
Place the prepared beets into a large salad bowl and toss lightly but thoroughly with the salad dressing to combine.