T's Favorite Chicken and Wild Rice
Prep 15 mins
Cook 1 hr 30 mins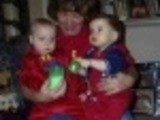 This is a good company as well as family dish that I have served for 15 years. I tripled the recipe and had a "dinner for 10" a week ago. It was a hit. I am posting this at the request of my guests. There is NO SOUP in this dish. But the ingredients and steps are SIMPLE and EASY for an elegant tasting meal. Your choice whether to use the chicken with/without bones and skin.
1 chicken, cut up (or boneless chicken breasts)
1 box long grain and wild rice blend (I use Uncle Ben's)
1 3⁄4 cups water
3⁄4 cup cut-up vegetables (your choice - onion, green pepper, celery, mushrooms, carrots)
1⁄4 cup butter
Directions
Empty wild rice into bottom of casserole pan and sprinkle the enclosed package of seasoning over it.
Add water and cut-up vegetables.
Rub butter on the skin side of chicken and lay skin side up on top of rice mixture.
Dot with remaining butter.
Cover with foil and bake at 375 degrees for 1 hour.
Remove foil and bake for 30 minutes longer to brown chicken.
Most Helpful
I made this with the quick-cook wild rice mix because that's what I had on hand, and it came out fine. However, next time I'd use the "original" version because it has all that nice spinach in it which the quick-cook doesn't seem to have.
We really enjoyed this recipe. I used boneless chicken thighs and they worked fine, did not dry out too much. I did drizzle the chicken with olive oil instead of rubbing with butter, but that is just a personal preference. The only thing I may do different next time, will be add a little spice mix. We like spicy foods, so that again is just a personal preference. Overall..a great recipe.

This was easy and tasty. I used boneless skinless chicken breasts and will definately not do that again. I will use bone-in (skinless) pieces nest time (and there will be a next time)because the chicken was very dry. However, I loved not having soup in the rice and it was soooooooo easy. I used mushroom, green onion and celery for the vegetables. I just used the last 30 min of cooking time to roast some veggies and had a great dinner.