Trumpeter With White Wine
Sara 76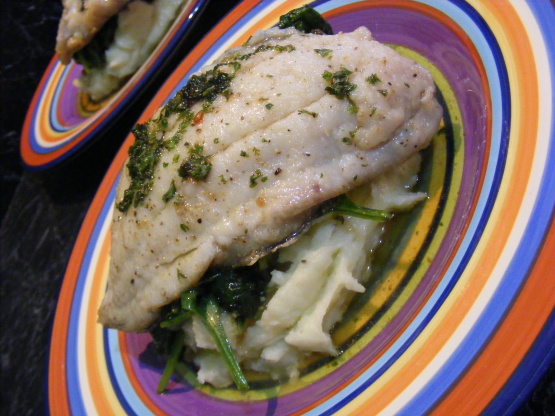 I was given some fresh trumpeter and went searching for a recipe. I found this on the Fins Restaurant webpage. You can use Snapper, Jewfish or Blue eye trevalla instead of the trumpeter. Serve with Wasabi Mash and Saute Spinach. **I have included the serving directions for this in the cooking method. If serving a different way, ignore these steps.
**Just before fish is cooked.
**Divide mash between 4 plates.
**Place four equal portions of spinach on top of mash.
Heat olive oil in frying pan.
Season fish fillets and dust lightly in flour.
When oil is hot, add fish to pan.
Cook fish fillets for 2 minutes or until golden then turn and cook other side.
Deglaze the pan with white wine, lemon juice and butter.
Place in a hot oven (180C) for 3 minutes until fish is almost cooked.
**When fish is cooked place on top of wasabi mashed potatoes and spinach. Reduce sauce by ½ then add chopped parsley in last seconds.
Pour sauce over the fish.