Triple Malted Chocolate Cake With Vanilla Malted Frosting
ChefLee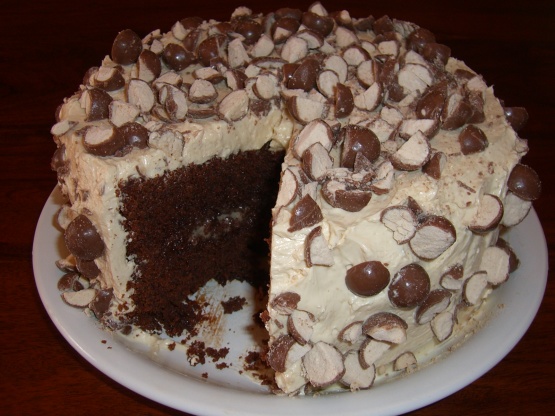 A most delicious easy to make cake using malted milk powder (find it near powdered chocolate milk mixes at your grocers). I plan on bringing this in to my periodontist's office next week. They have taken such good care of me... and it makes me laugh to bring them sweets, they're so spoiled. From Chow.com One can make the frosting the day before & store it in the fridge - that's my plan & I'm sticking with it.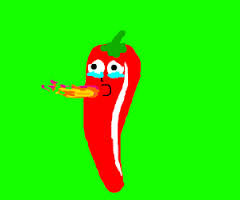 I love malted milk so I had all the ingredients for this, I knew it would be good but WOW!!!! What a delicious, gooey, cake!!! I love the subtle chocolate malt flavor and the light crunch of the malted milk balls in the icing is wonderful!! It makes a lot of icing too, which I love more than the cake usually. This cake would be good even without icing!!! It is that moist and rich! This cake is really dense, it is heavy to carry!!!! I like how the malted milk balls formed a little shield between the icing and my foil tent that I transported the cake in!! Kept all the icing in tact and beautiful!! Great recipe for a wonderful chocolate cake, thanks so much for posting!!!!
For the Frosting:.
Combine butter and sugar in the bowl of a stand mixer fitter with a paddle attachment, and beat on low speed until sugar is incorporated.
Increase speed to medium high and beat until mixture is light and whipped, about 3 minutes. Stop the mixer and scrape down the sides of the bowl and the paddle.
Add remaining ingredients and return to low speed until ingredients are incorporated. Increase speed to medium high and continue whipping until frosting is evenly combined and light, about 3 minutes.
Cover and store in fridge until ready to use. Take out 30 minutes before anticipated need to let soften up a bit.
For the Cake:.
Heat the oven to 325°F and arrange the rack in the middle.
Coat 2 (8-inch) cake pans with oil and flour, and tap out any excess flour. Set aside.
Combine malted milk powder, flour, cocoa powder, salt, and baking soda in a large bowl, and whisk to aerate and break up any lumps.
Set aside.
Combine eggs, sugar, oil, and vanilla in a separate large bowl, and whisk until combined and smooth.
Add 1/3 of the flour mixture, and whisk until just incorporated.
Add 1/2 of the milk, and whisk until smooth. Continue with remaining flour mixture and milk, alternating between each and whisking until all ingredients are just incorporated and smooth.
Divide batter evenly between the prepared pans.
Bake until a toothpick inserted in the middle comes out clean and the cakes start pulling away from the sides of the pans, about 45 to 50 minutes.
Remove cakes from the oven and transfer to a wire rack to cool, about 15 minutes. Run a knife around the perimeter of each, and turn cakes out onto the rack to cool completely.
For the Asembly:.
To frost, place a cake layer on an 8-inch cardboard round, a tart-pan bottom, or a cake plate.
Evenly spread about 1/3 of the frosting over the top of the layer.
Stack the second layer, and evenly spread another 1/3 of the frosting over the top and sides of the whole cake. (Don't worry about looks at this point—this is just a basecoat, a.k.a. a crumb layer, and it will be covered up later.) Place in the refrigerator until frosting is set up and slightly hard, about 15 minutes.
Remove from the refrigerator and spread remaining frosting over the top and sides of the cake, ensuring it's as even as possible. Press malt balls into the frosting around the sides of the cake and serve or chill until ready to serve.