Prep 15 mins
Cook 45 mins

This is a lovely gingerbread with crumb topping to have with tea or coffee. I think I found the recipe in an old Houston Junior League cookbook.
Directions
Combine flour and sugar.
Cut in butter.
Reserve 1 cup of this mixture for topping.
Add cinnamon, soda, nutmeg and ginger to remaining flour mixture.
Stir in eggs and buttermilk; (Do not use electric mixer).
Pour batter into ungreased 9 x 13 pan.
Sprinkle with reserved topping and bake in preheated 350° oven for 45 minutes or until done.
Most Helpful
Prepared for Spring PAC '09. I love gingerbread and this one had just the right flavor for me. Easy to prepare. Thanks for posting.

UPDATED: 2-3-09 - I successfully 1/2 this recipe (with mods below)and baked it in an 8X8 pan for 30 mins. Our family of 4 can't eat a 9X13 cake before it gets stale and this made the perfect size! Original review: I liked this recipe but found it not "ginger-y" enough to be called gingerbread - more like a spice cake. I will make it again because is was very moist and I loved the topping. I personally would make the following changes - decrease the nutmeg it was the predominant flavor (I used fresh grated), double the ginger in the cake and add a few additional shakes to the topping also. Also be sure to make it at least 1 day ahead - it needs to ripen overnight. Thanks for posting! PS - 1 box brown sugar = 2 1/3 cups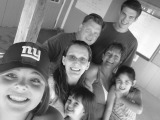 I was looking for a recipe to make gingerbread with my fifth graders, and my mom suggested this one to me. I made a batch the night before to test it out (and just in case the one at school didn't turn out). It was so easy to throw together! I ended up accidently throwing in 2 sticks of butter instead of 3/4 a cup. It baked up so fluffy and tasty (I had a piece for breakfast). The batch at school was super easy, and the only change I made was to use the correct amount of butter. Honesty- after trying both of them, I liked the one with 2 sticks better. Gave a piece to my principal and she proclamed it the best she had ever eaten, and my class gave it 25 thumbs up. Thanks for sharing!