We found this recipe in a cookbook from the library, but I'm not sure which one. It is perfect comfort food, and easy since I usually have all the ingredients. Canned tomatoes work fine in this as a substitute for fresh. ZWT 3: Great Britain/Ireland (Welsh--rarebit)
Directions
Mix together the chopped tomatoes and the baking soda.
In a saucepan, melt the butter, stir in flour, and cook for 2 to 3 minutes, stirring constantly.
Slowly pour in the warm milk and stir until smooth. (Mixture will be thick).
Add the tomato/baking soda mixture, cheese, eggs, cayenne, and salt to taste.
Cook over very low heat, stirring constantly, until cheese has melted and the mixture is smooth and blended.
Spoon over the toast and serve hot.
Reviews
Most Helpful
This was easy to make with pantry staples (I used canned fire-roasted tomatoes). My whole family loved it. We will undoubtedly make it again, as DD said she wished she could eat this every single day for lunch. Thanks, lucid501! Made for "Please Review My Recipe" Tag game.

Unlike the other reviewers, I thought this was terrific:D The lighter texture of the cheese sauce I'm pretty sure was due to the addition of baking soda. As a result, you can get away with using less cheese per serving, saving lots of calories! Instead of adding any eggs, I just scrambled them separately and topped the toast with them before adding the cheese (because I am overly concerned about undercooked eggs). I used a bit more cayenne and mustard, so my BF thought it was just a tad too spicy, but he said he still loved it anyway:D I used low-fat milk and low-fat cheese. It came out great! I think I will try this again soon, using beer instead of milk. Thanks, lucid, I'm so glad I tried this!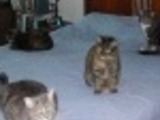 I made this for lunch today as my last zingo pick on ZWT. It was kind of like scrambled eggs with a slight kick. I used dijon mustard & scaled it down to serve one. Not bad, I quite enjoyed it.