Tomato, Mozzarella and Pesto Pasta Salad
Shuzbud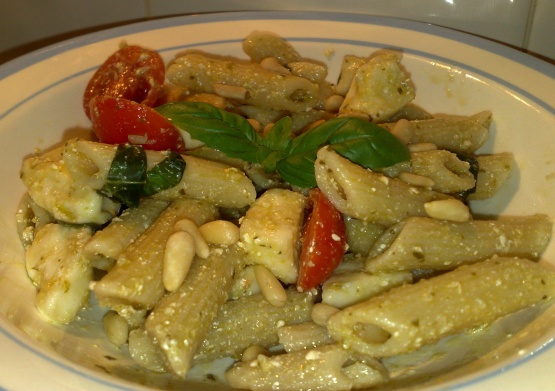 I came up with this one day when trying to use up ingredients I already had. The pine nuts give the salad a great, nutty flavour and add a bit of crunch to the texture. Serves 4 as a side dish. Update: I have added some olive oil to the pasta salad to moisten it up a bit, based on a review.

Top Review by Ck2plz
This has the potential to be 5 stars. I love the ingredients but it is missing something. I thought red onion but it may be too strong. Maybe Kalamato olives?! This is a dry salad. You need to add something to make it moist. I can't figure that one out either. I would recommend putting the parmesan cheese on top of the salad. Thanks Shuzbud
Cook the pasta according to the directions on the package.
Meanwhile, cut the mozzarella into small cubes and quarter the cherry tomatoes.
When the pasta is cooked, drain it and rinse it in cold water until the pasta is cold. Drain it again.
Mix the pesto sauce, olive oil and parmesan in with the pasta.
In a large serving bowl, mix the pasta with the mozzarella and tomatoes.
Sprinkle the pine nuts over the top and serve.