Tilapia With Dill and Paprika
Boomette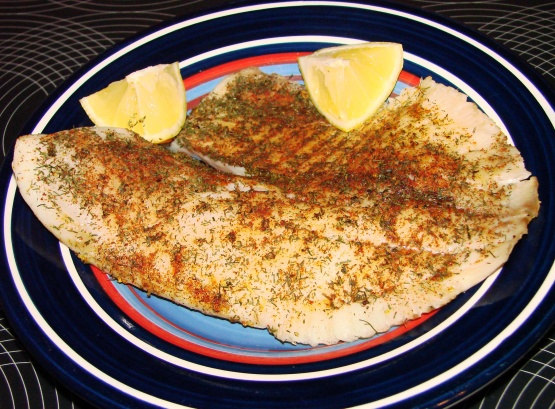 This is a simple recipe, minimal preparation and a delightful blend of seasonings. With this recipe dinner can be on the table in less than 30 minutes. The recipe was adapted from Diabetes & Heart Healthy Cookbook.

Made this for dinner tonight and I enjoyed the flavors of the lemon, paprika, and dill. It gave just enough flavors to accent the fish. My DH however did not care for it. He is a fish fry or plain fish kind of guy. I tried this to change things up a bit but he said the seasonings were not to his tastes. Go figure. I will make his again but make his the baked fish "fry" while I use these ingredients. I LOVE how simple this dish is to make. Thanks Paula. Made for From the Pantry Challenge. Feb 2012
Preheat oven to 350 degrees.
Line a shallow baking pan with aluminum foil and lightly mist with olive oil.
Rinse fish and pat dry with paper towels.
Place the fish on baking sheet; mix spices together in a small bowl and sprinkle over fish rubbing in lightly.
Mist lightly with olive oil and place in preheated oven.
Bake for 10 to 12 minutes or until fish flakes easily when tested with a fork.
Serve with lemon quarters to squeeze over the fish.