Tilapia Mediterranean over Angel Hair Pasta
Catta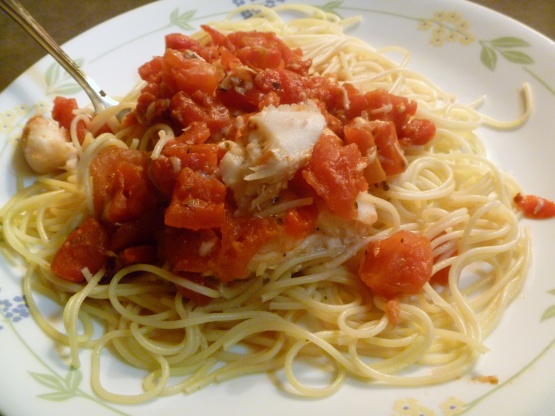 From the Orlando Sentinel

After reading the previous review of this recipe, I was a bit paranoid about cooking the fish, so I kept leaving it in the oven until I ended up essentially doubling the cook time to about a half hour or so. I finally took it out when I realized that the reason the fish still looked a bit red was because it had tomato sauce all over it, and if i scraped the sauce off a part of the fish, I could see that it was white and well-cooked underneath. Whoops. So anyway, I'd have to try this recipe again to be able to tell you whether this really needs to be cooked as long as I did (probably not, as the feta cheese was starting to get a little singed by the time I removed it), but either way, I don't feel that it's appropriate to give a recipe a one-star rating because of what basically amounts to a correction to the preparation instructions. This dish, when it's finished, is darn good eatin' - and how could it not be, with those ingredients? So: five stars, because the recipe is tasty, and also to offset the unfair review preceding this one.
Cook pasta;drain. Heat oven to 400°F.
Spoon tomatoes into shallow baking dish. Stir in parsley, oregano and crushed red pepper flakes. Put fish on tomatoes. Drizzle with lemon juice. Spoon some tomato mixture on fish. Sprinkle with feta. Bake 12-14 minutes, or until tomato mixture is bubbly and fish is opaque. Serve on pasta. Garnish with parsley.