Tiffany Cellar Cafe's Egg Salad
Parsley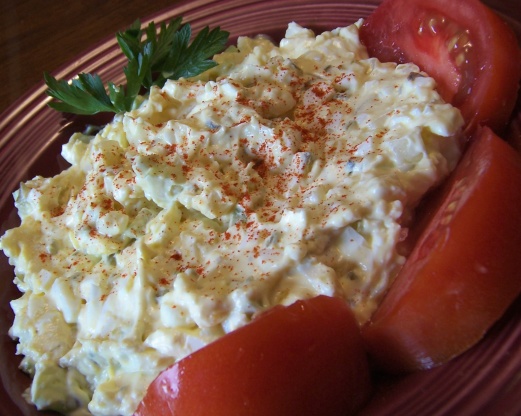 I have been looking for a "different" egg salad for quite some time. I love this one. I also love onions so I add those to mine as the kids think they are allergic.

I liked this recipe but fellt that it lacked a little "umph" in flavor. Next time, I might add some salt of garlic salt. I made the recipe with the following changes due to what I had on hand and personal preferences: First, i halved the recipe (only cooking for the hubby and I). I used black pepper instead of white (didn't have any on hand). I didn't use celery because I don't like celery in my egg salad. Also, instead of pickle relish, I used finely chopped dill pickle spears. Tip- I grated the hard boiled eggs on the course side of a cheese grater- works great and makes for a more uniform salad. This recipe tasted full, thick and creamy- the addition of the cream cheese added a nice, background flavor. Good recipe (one I'll probably use again), just needed a little more flavor.
With a hand mixer beat together the first 5 ingredients.
By hand stir in the relish and celery, then fold in eggs.
Keep refrigerated till time to use.