Thick and Chewy Nutella Chocolate Chip Cookies
cerid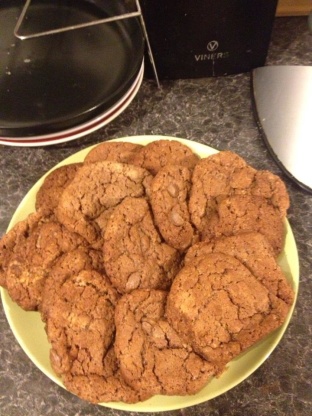 I was looking for a good Nutella cookie recipe and found this on Recipe Goldmine. It's crisp on the outside and chewy on the inside and makes the house smell *heavenly* while it's baking. I would recommend using chopped hazelnuts instead of walnuts or pecans to enhance the Nutella flavor.

This recipe made me join this site officially.

I made these cookies with my kids one weekend afternoon so we could surprise mom when she came home. They are (were) phenomenal.

Only issue I had with the recipe was the qty of chocolate chips it called for. I only had 1 bag which was 1.5 cups rather than 3. If I would have added any more than that there would have been way too many.

I did add chopped hazelnuts as well so that might have been why. So, if you add nuts cut down on the chips!
Heat oven to 325 degrees. Line a 20 x 14 baking sheet without sides with parchment paper.
Mix flour, salt and baking soda together in a medium sized bowl. Set aside.
With electric mixer, mix butter and sugars until thoroughly blended. Mix in Nutella, egg, yolk and vanilla extract. Add dry ingredients; mix until just combined. Stir in chips.
Form 1/4 cup dough into ball. Holding ball using fingertips of both hands, pull into two equal halves. Rotate halves 90 degrees and with jagged surfaces exposed, join halves together at their base, again forming a single cookie, being careful not to smooth dough's uneven surface. Place formed dough onto sheet, about nine balls per sheet. (Smaller cookie sheets can be used but fewer cookies can be baked at one time and the time may need to be adjusted).
Bake until cookies are light golden brown and outer edges start to harden, yet centers are still soft and puffy, 15 to 18 minutes (start checking at 13 minutes). (Frozen dough requires an extra 1 to 2 minutes baking time.) Cool cookies on sheets. Store in an airtight container.
NOTE: I used a large cookie scoop to portion out the dough instead of shaping it by hand as described above. The cookies came out a little smaller than the giant 1/4 cup size, but they still looked great. They will deflate a little as they cool so keep that in mind when determining baking time. I baked mine for the full 18 minutes, or just until the centers were soft but not squishy. The cookie scoop method yielded 17 large cookies.