The Simplest Tomato Sauce Ever (Marcella Hazan)
Redsie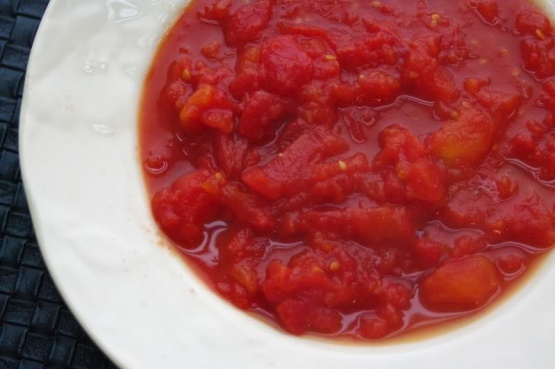 In its very simplicity lie the secrets. This sauce is incredible. It has 3 ingredients, and no chopping. The amateurgourmet calls it Marcella Hazan's CRAZY tomato sauce. This is not your thick pasty sauce, it is a light luscious wonder. Add garlic or basil or mozzarella to it as you choose but try it this way first. The butter..DON'T switch to olive oil, it makes the sauce.

I've been cooking this sauce occasionally for years. It is simple and delicious and the flavour is wonderful. This is NOT a sauce to use in other recipes, it is only for simply combining with pasta. I have the cookbook it's from and this is very clear in that (Marcella is always very clear, her tone is like a fairly strict schoolteacher I always think!). The recent comment comparing this sauce to Honey Boo Boo's "sketi" is purely idiotic and inappropriate - Marcella Hazan is about as far away from that as you can get. Also, Marcella does not dislike garlic but like most traditional Italian cooks she does not combine onion and garlic in a pasta sauce - it's one or the other.
Combine the tomatoes, their juices, the butter, and the onion halves in a medium saucepan.
Add a pinch or two of salt. Place over medium heat and bring to a simmer. Cook, uncovered, at a very slow but steady simmer, adjusting the heat as necessary, for about 45 minutes, or until droplets of fat float free from the tomato.
Stir occasionally, mashing any large pieces of tomato with the back of a wooden spoon. Taste and salt as needed.
Discard the onion.