The " Shut Up, Sandi " Quesadilla / Quesadillas
Karen R.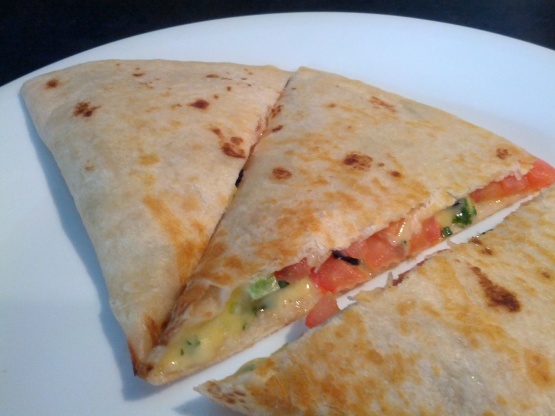 I've been in major whine mode lately and this little gem was my husband's clever method of putting something besides complaints in my mouth. It was a roaring (so to speak) success! Or at least temporarily. It uses the lovely Dutch aged gouda cheese, something this puppy depends on. Not smoked and not the stuff you buy at most markets, but the genuine, aged a minimum of 1 year, article. Measurements are approximate. By the way, did you know that the Dutch pronounce gouda as "HOW-duh"? I almost titled this recipe "Gouda You Do", but I didn't want tomatoes thrown at me. (!)

This is delicious. I put 2 chopped black olives on one half to compare, it was good both ways.
Heat skillet over medium-low heat.
Butter one side of the tortilla and place it buttered side down in the heated skillet.
Layer ½ the tortilla with the remaining ingredients starting and ending with cheese shreds.
Fold in half and cook in covered skillet for approximately 8 minutes or until cheese melts.
Remove lid, raise heat to medium-high and brown quesadilla on both sides to your desired darkness. I like mine crispy and carcinogenic. ;o).