Thanksgiving Pie (Leftovers Shepherd's Pie)
anme7039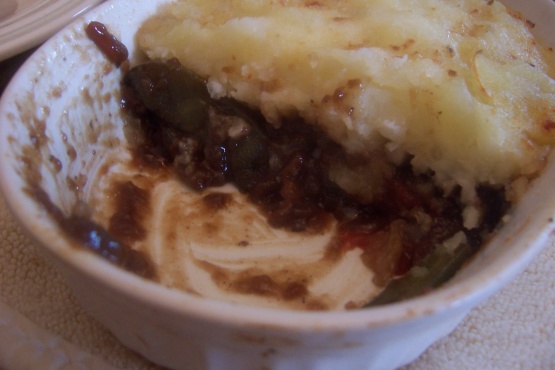 A way to use up holiday leftovers

Anme, your recipe was fabulous and simple. I chose this one over some others, since I didn't think it needed the additional starch of stuffing. I think it tasted better layered than when originally served, since the gravy flavors all the parts! The egg makes the potatoes puff up a bit, too. Both my teens preferred it this way! I used leftover gravy and sprinkled with pepper. Thanks for posting.
Roxygirl
4

cups cooked turkey, shredded (or chicken or roast beef)

3 -4

cups cooked vegetables (I use carrots, corn, onions, green beans, and peas)
1 -1 1⁄2 cup gravy (to match meat flavor) or 1 -1 1⁄2 cup one can cream of chicken soup

3 -4

cups mashed potatoes

1

egg
Heat vegetables, meat, and gravy on the stove until warmed then pour into a greased casserole dish.
Mix mashed potatoes with egg and spread over the warmed filling.
Bake at 400°F for about 25-30 minutes until filling is bubbly.
Want a change? Sprinkle cheese on top, or mash ranch dressing mix into the potatoes with 2 TBS sour cream.