only1bub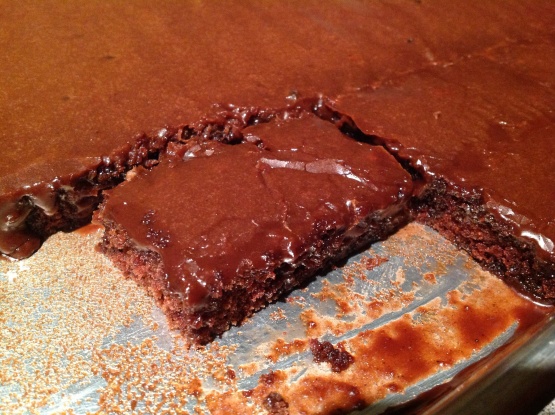 This chocoholic's favorite brownie. The recipe was shared with me by an ex-MIL over 25 years ago. Good recipes, unlike marriages, never die.

This recipe deserves some recognition - its absolutely fantastic. I followed the recipe as is. It has a rich, super-chocolately flavor that is kind of unique. Can't describe the uniqueness. I'm thinking it might come from the buttermilk? The frosting is an absolute must - its a definitely a necessary component because it seems to partially melt into the cake itself. Anyways, its guaranteed to satisfy any chocolate craving - no matter how wild it may be.
Brownie: Preheat oven to 400°; grease an 11" x 17" jelly roll pan.
Mix sugar and flour in a bowl; in a saucepan bring to boil the butter, shortening, water, cocoa and salt; pour cocoa mixture over flour mixture and stir until combined.
Beat in buttermilk, baking soda, eggs and vanilla; pour into baking pan and bake for 15 minutes, until center is barely set; DO NOT OVERBAKE; the center of the brownie will be slightly puffed but, if not overbaked, will fall when cool.
Frosting: Prepare the frosting while the brownie bakes; in same saucepan, bring to boil the butter, milk and cocoa; remove from heat and stir in confectioners' sugar and vanilla; stir until smooth.
Pour and spread over the brownie immediately after removing it from the oven; cool and refrigerate.