Tex Mex Stuffed Potato Skins
Rita1652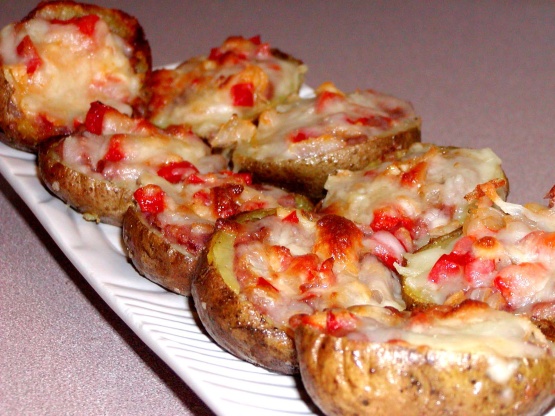 Save the meat of the potatoes for home fries. Be sure to leave an edge of potato with the skin.

Great twist on stuffing potato skins! The flavors went together beautifully, and the chipotle added a great smokiness without adding too much heat. I omitted the salt (personal preference) and used the cumin. Thanks for sharing!
Preheat oven to 400°F.
Sauté garlic, red peppers, and onions in 1 teaspoon olive oil 3 minutes.
Place potato skins in a bag with remaining oil, salt and pepper and lightly toss to coat with oil.
Puree salsa and beans in a blender with cumin and chipotle pepper.
Place skins on a parchment or silicone pad.
Fill with bean mixture, top with onion mixture, then with cheese.
Bake for 15-20 minutes till bubbly and browned.