For those of you who have never tried it, tempeh is a made from fermented soybeans that have been pressed into firm cakes. It has a "nutty" and meaty texture, and, like tofu, it absorbs flavors of surrounding ingredients really well. Tempeh is a very popular "meat" alternative for vegetarian cooks. The first step in this recipe has you poach the tempeh in boiling water, which mellows out the flavor a bit, and makes it a bit more digestible. This is yet another recipe from, my favorite: The Vegetarian Meat and Potatoes Cookbook.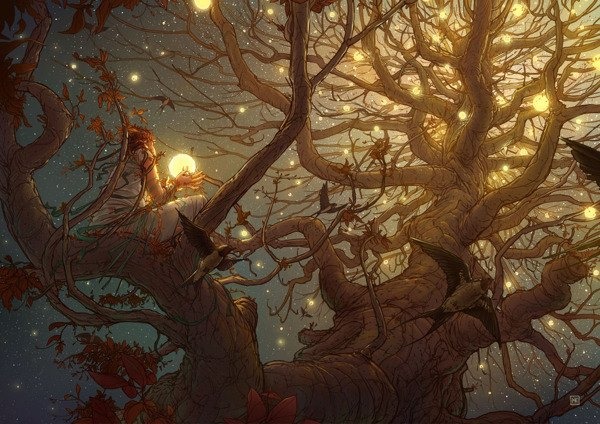 Top Review by Yogi8
Well, I haven't had real chicken salad in ages (so I'm not going to compare) but this turned out a very delicious lunch, wrapped it in a tortilla with a little lettuce. The salad has a little crunch from the veggies and the pickle gives a little kick. I used a homemade soy mayonnaise, so had to add even more salt and pepper because it was pretty bland stuff (MY mayo, that is!) I'm sure regular mayo would have been even better, but I'm not going there! Just a note: I accidentally simmered my tempeh much longer than stated, and it turned out fine. So if anyone leaves it on the stove a little too long, all is not lost!!!
Place the cubed tempeh in a saucepan of boiling, salted water.
Reduce heat to low, and simmer for about 12 minutes, drain and set aside to cool.
I usually toss it in the fridge.
In a large bowl, combine the celery, pepper, pickle, scallion and parsley.
Run a knife through the cubed tempeh, just to give it a rough chop (optional, the cubes work fine too) Add chopped tempeh to the bowl, along with the mayonnaise, mustard, lemon, salt and pepper.
Fold everything together, cover, and refrigerate for at least 30 minutes to let the flavors combine.
This will keep covered in the fridge for 2-3 days.
This salad goes great on wheat toast, in a pita pocket, or in a lavash wrap.