Tandoori Chicken Thighs II
ImPat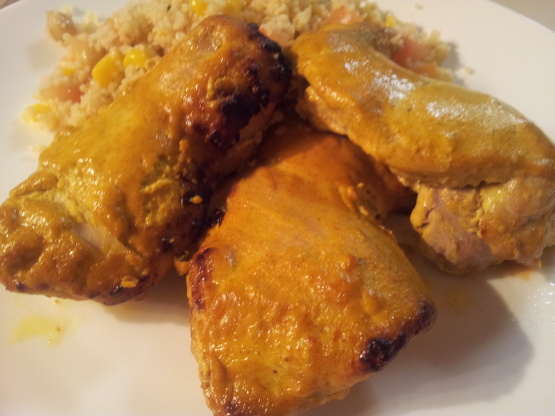 Another one from the doctor's waiting room magazines (Not sure which one though!) Simple and tasty! Note that the marinating time is not included in the timing.

Wow, it smells soooo *amazing* in here! Not only that, but this chicken *tastes* amazing - like lick your plate clean amazing! :) I did make a few alterations/additions to the marinade, using plain Greek yogurt, cutting the cayenne WAY back to a heaping 1/4 tsp (plenty hot for me, and I like hot!), and adding another 1/4 tsp turmeric, 1 tsp coriander, 1/4 tsp black pepper, 1/4 tsp cinnamon and 1/4 tsp ground ginger (I just couldn't help myself, sorry! The resulting marinade was delish just by itself though!) I had 2 lbs boneless, skinless thighs (8 thighs) and I thought the amount of marinade was perfect for that amount of meat. I marinated the chicken in a ziploc bag for about 4 1/2 hours, then just cut the bag open to remove the meat (quick and easy cleanup!). Baked at 400F for 30 minutes and it was perfectly done. I will be making this one again (with my additions) FOR SURE! Thank you for sharing!
Mix all ingredients except for chicken till the mix is uniformly yellow.
Add chicken and coat well.
Cover and refrigerate between 4 hours to overnight.
Heat oven to 425 F and place rack on top 1/3 of the oven.
Line a baking pan with foil and place chicken on one layer, adding a thick coating of the marinade on top of each piece.
Bake for 35 min.
Check for doneness.
Enjoy.