loof751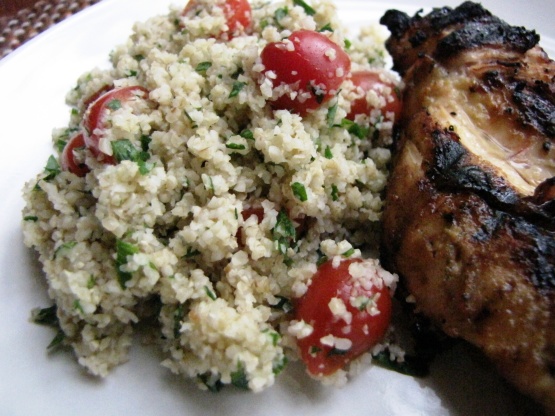 Loads of fresh herbs and wholesome grains are what makes this light and easy salad so appealing. If you're not familiar with bulgur, it's a whole grain that plumps up in warm water in a matter of minutes, which makes this salad perfect for a last minute dinner. Try eating this as they do in Lebanon, by scooping it up with crisp leaves of romaine lettuce. Food for thought: The largest recorded bowl of tabbouleh was made on June 9, 2006, in Ramallah, West Bank, Israel. It weighed 1,514 kilograms and earned a Guinness World Record. From the Take-Out Menu Cookbook.

This is a wonderful dish! I have never made tabbouleh before and was a little apprehensive but you provided a delicious recipe with easy-to-follow instructions and it came out great! I don't care for onions so left them out and used a little less mint than specified. Served this with grilled chicken and really enjoyed it - thanks for posting this recipe!
Place the bulgur in a large bowl and pour enough warm water over to cover generously. Let it stand until the bulgur softens, about 15 minutes. Drain well, pressing down gently to extrude any excess liquid.
In a large bowl, combine the parsley, mint, green onions, tomatoes, lemon juice, olive oil, cumin, salt & pepper. Add the bulgur and toss.
Taste and reseason with salt and pepper if necessary.
Make Ahead: Tabbouleh can be made up to 3 hours ahead and kept at room temperature.