Sweet Potato- Apple Casserole
Bergy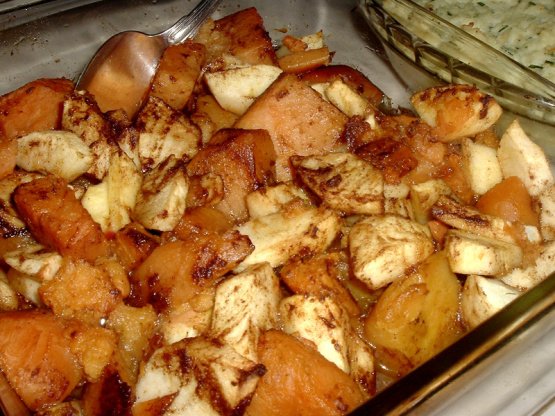 I took parts of two differnt recipes and came up with this one last Thanksgivinig and it was a hit at our house.

I wanted to try something new for Thanksgiving this year and I'm so glad I tried this recipe. It's delicious. I doubled the recipe and made it in a 13x9 dish and it turned out great. I especially liked that it baked up so quickly after I took the turkey out of the oven. Thanks for the recipe Kim!
Slice potatoes 1/4 inch thick.
Slice apples 1/4 inch thick.
Put lemon juice on apples.
Mix brown sugar, cinnamon, and butter.
Alternate layers of potatoes and apples in a 1 1/2 quart casserole dish.
Sprinkle each layer with sugar mixture.
Bake at 350 degrees for 20 minutes or until browned and apples are tender.