Sweet Onion Custard Bread
najwa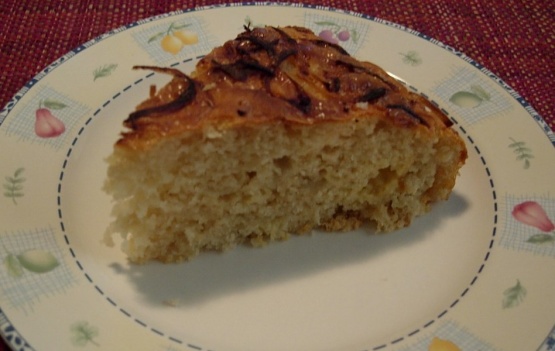 What an unusual bread! And so easy to make. The texture is soft and the aroma of the onion and cheese baking will make your mouth water!

Top Review by Manda
M&Mers, this bread is FABULOUS!!! I followed your recipe exactly, except I left out the extra melted butter on top, and didn't add as much poppyseed (I just sprinkled it over top, about 1-1 1/2 tsp.) I cannot believe how easy and delicious this was!! Another definite keeper!! Thanks! ~Manda
In large frying pan, melt butter over medium-high heat.
Saute onions 10 to 15 minutes or until light golden brown.
Set aside 2 tbsp of this mixture for the topping.
In large bowl, combine flour, baking powder and salt.
Stir in milk, egg and 1/2 cup cheese.
Add remaining onions.
Pour into a greased 9 inch pie plate.
Sprinkle 1/4 cup cheese, reserved 2 tbsp onion and poppy seeds over top of bread.
Drizzle with melted butter.
Bake at 400F (205C) for about 25 to 35 minutes or until golden brown.
Cool slightly, cut into wedges.