Sweet N Spicy Bacon Chicken
alligirl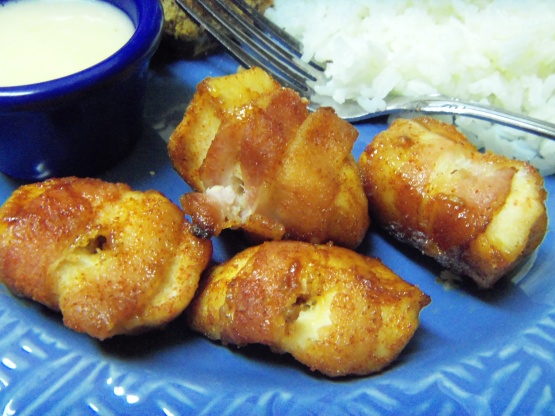 Bacon wrapped, sweet but spicy, bite-sized chicken. So easy and a perfect finger food or main course.

De-Lish! So yummy! I've had these saved to try for too long now! And try we did! I made these as part of 'Appy Night' and were not disappointed! I used a nice sized chicken breast and 3 slices of applewood bacon, as it is what I had on hand. The sweet/spicy combo is one we are fond of, so I figured this would be a fave! Thanks for sharing, wittlebit83!
Preheat oven to 350 degrees Fahrenheit.
Slice chicken into bite-sized pieces.
Cut bacon into 1 to 1-1/2 inch pieces.
Wrap a piece of bacon around each chicken piece. Use toothpicks if necessary.
Combine the brown sugar and cayenne in a small bowl.
Roll each piece of chicken and bacon in the brown sugar/cayenne mixture.
Place on a cookie sheet keeping the pieces from touching.
Bake for 15 to 20 minutes or until chicken is cooked through.