Sweet N' Nutty Popcorn Crunch
Pellerin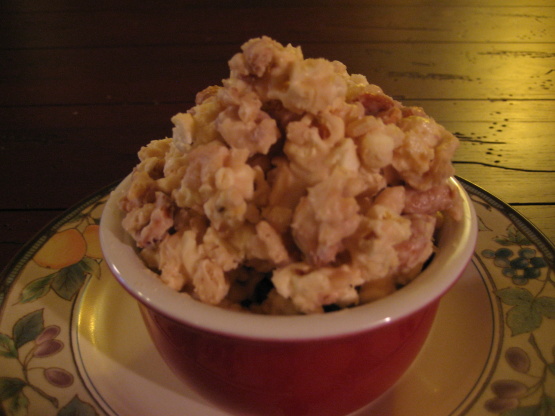 Great for Christmas gifts, or just munching with a good movie. Thanks to my friend, Verna, for this great, EASY recipe.
5

cups popped popcorn (unbuttered, unsalted)

12

ounces peanuts (dry-roasted or honey-roasted, not too salty!)

2

cups Rice Krispies

1

lb almond bark (vanilla flavored, find near baking chocolate aisle)

2

tablespoons peanut butter (smooth or creamy)
In a large bowl, combine popped popcorn (remove unpopped kernels), Rice Krispies, and peanuts.
In another bowl, melt almond bark and peanut butter in microwave on high for 1 1/2 minutes.
Stir and keep microwaving in 30 second intervals until melted.
Pour melted ingredients over popcorn mixture and fold, mixing well.
Pour onto a large piece of parchment, waxed paper, or foil sprayed with Pam.
Cool for 15 minutes and either form into balls, or leave flat to dry another 30 minutes, then break apart.