Sweet Corn and Black Bean Salad
Zielle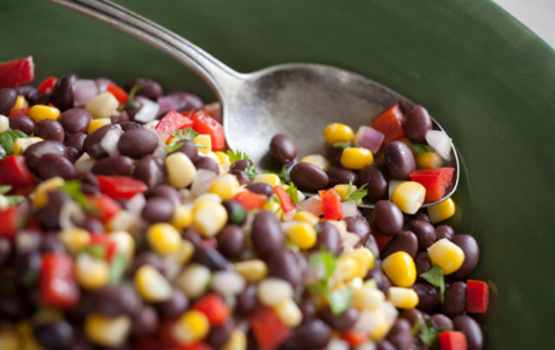 This is an incredibly delicious version of a black bean and corn salad that is low in cal/fat and contains fiber and protein. The black pepper and lime juice really finish it off. This recipe actually came from Whole Foods but was tasty enough to take the time to post it here! This is definitely best served cold with raw ingredients.
Bring a medium pot of water to a boil.
Add corn and cook for 1 minute, then drain well, rinse in cold water, and drain again. (If using frozen and thawed corn, skip this step).
Rinse onions in cold water to remove some of their sharp, acidic flavor; drain well and set aside.
In a large bowl, whisk together vinegar, olive oil, lime juice, salt and pepper to make a dressing.
Add beans, corn, onion and bell pepper and toss until just incorporated. Cover and chill for about 2 hours.
Add cilantro and toss again before serving.