Pam-I-Am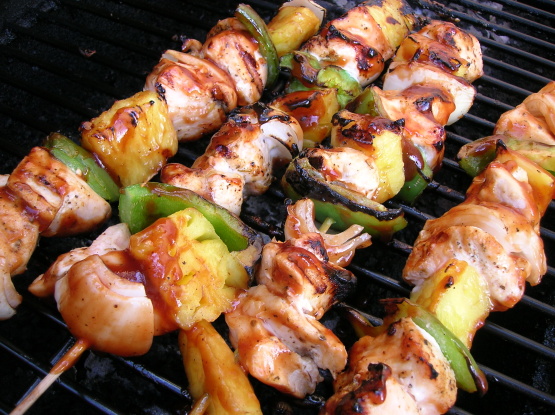 From grill to table in minutes.

I'd gotten this same recipe from the Kraft website, and finally tried it. It is amazing! We added zucchini, tomatoes and sweet potatoes to our kabobs. Love grilled veggies... and the orange juice adds a nice flavor to the bbq sauce.
Soak wooden skewers in water for 30 minutes; drain.
Preheat grill to medium-high heat.
Using 8 long wooden skewers, (two, side by side, for each kabob) thread chicken alternately with peppers and pineapple onto skewers, to create 4 kabobs.
Mix barbecue sauce and juice; brush on kabobs.
Grill kabobs 8 to 10 minutes or until chicken is cooked through, brushing occasionally with remaining sauce.