MC Baker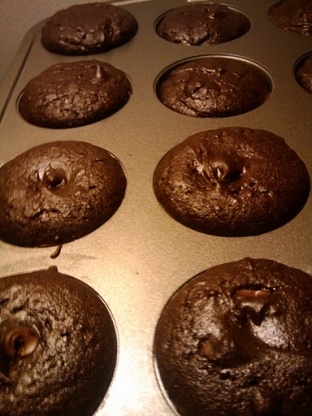 Usually this includes a lot of additional eggs, sugar and butter but no flour - which makes it good as well but somewhat richer. I changed the recipe as i could not be bothered to whip the egg whites and care for the batter to cool down in order to add the yolks. So i went for a little four instead and gave it a try. What a treat! I love it! It is just too easy to be good :-) Enjoy with vanilla icecream. Note: You can use any chocolate you like but i recomend good quality chocolate with at leat 60% cacao.
Put the water in a small skillet, it should cover the bottom, add chocolate broken in pieces and heat on middle heat until the chocolate has melted, stir occationaly.
Take from the stove, add flour and baking powder and stir with a spoon.
Bake at 300° in silicon muffin cups for about 10 minutes but do not overbake.