Bergy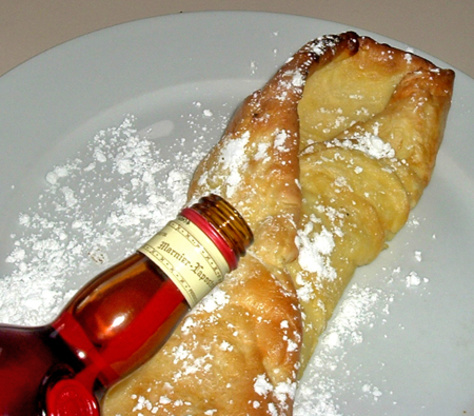 A light and wonderful way to begin a Sunday anytime of the year.

This was so easy and I had it on the table in 15 minutes, which my family LOVED! I used a wedge of a lemon for the juice that was about 1/4 of a lemon. Make sure you get this all over, as it gives a wonderful taste to it! And I sprinkled with powdered sugar! Thanks for a great recipe!
Put butter in a heavy frying pan or a shallow casserole.
Place in an oven set at 475*.
Meanwhile, mix milk, flour and eggs lightly to make a batter.
When the butter has melted, add batter to the pan and bake for 12 minutes.
Remove from oven and place bismarck on a plate.
Pour a little of the melted butter on the pancake, and squeeze on a little lemon juice to taste.
Roll it up like a loose jelly roll and sprinkle with confectioners' sugar.
Variations: Sprinkle with brown sugar.
Forget the sugar and use a fruit or maple flavored syrup.
Spread with a favorite fruit preserve or fresh berries.
Lightly sprinkle with Grand Marnier.
Fill with chestnut cream.