moxie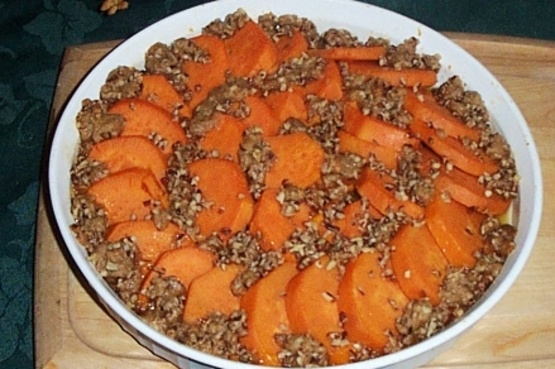 *Adopted Recipe* This is a wonderful side dish from the Woman's Day Cookbook. I made these as a holiday side dish for the first time about 9 years ago, and they have been in regular rotation since. It looks gorgeous on the table, too.
I've made this several times and it's so good, easy to make and is a crowd pleaser. I use light brown sugar instead of dark and this year I am going to use fresh squeezed oranges for the juice and sugar free pancake syrup because I am diabetic and to cut back on the carb content. I have also put marshmellows in it but it's not needed because the streusel crumb topping is just so perfect!
Heat the oven to 325 degrees Farenheit, and lightly grease a 1 1/2 quart baking dish or casserole.
Cook the potatoes in a large pot of boiling water for about 20 minutes, or until firm-tender when tested with a fork.
Drain and cool under cold water.
Cut in 1/2-inch thick slices, and arrange the slices in the casserole dish in a spiral pattern, overlapping slices slightly.
Mix 1/2 cup of the syrup with the orange juice, pour over potatoes.
Dot with 1 Tablespoon of the butter.
Cover tightly with foil, and bake for 20-30 minutes, until hot and the potatoes have absorbed some liquid.
In a small bowl, make the streusel topping.
Mix flour, brown sugar and cinnamon, and using two knives or a pastry cutter cut in remaining 3 Tablespoons butter until mixture is the texture of coarse meal.
Toss in pecans.
Remove potatoes from oven and sprinkle with streusel mixture.
Bake uncovered for 15 more minutes, or until the topping is bubbly and lightly browned.
Pour the remaining 1/4 cup maple syrup over the potatoes and serve immediately.