gailanng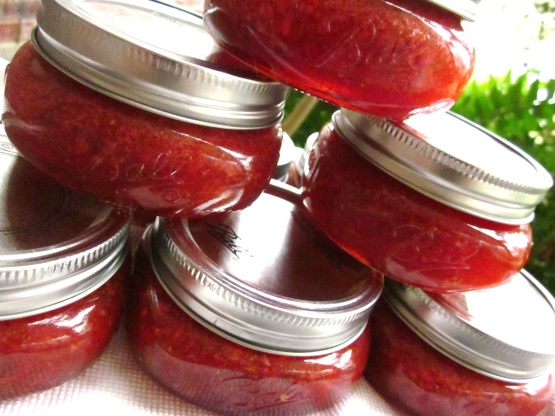 Consider keeping the jalapeno seeds and membranes, otherwise the results will be good, but mild. Also, remember to use disposable latex gloves when handling peppers. I can't guarantee the recipe should you reduce the sugar because I've never made it otherwise. Sure-Jell Premium (yellow box) requires a certain amount of sugar to gel properly. (I do have another jalapeno jelly recipe, Jalapeno Cranberry Jelly (Christmas Jelly). It's considerably less work and equally divine.) BTW, should any recipe fail, see Liquid Cement.

Top Review by PSASSY
Totally outstanding! I made two batches of this jam a couple days ago and I am going to run out and get more strawberries so I can make some more! I have tons of jalapenos growing in the garden so I am all set there. I did not remove any seeds or veins from the jalapenos and was a little concerned it would be too hot for some people, but it was perfect! Just the right balance of sweet and heat. I think it took about 18 medium-sized jalapenos for one cup of chopped.

I served the jam with some table water crackers and a brie-like cheese tonight at a church gathering and it disappeared like lightning! Everyone loved it, even the kids. I am planning to serve this appetizer to some dear friends at our next get-together and I am going to serve it with champagne. I think a nice dry champagne would go wonderfully with the jam and cheese! I am also planning to make a baked brie pastry with the jam this fall. This recipe is going right into my cookbook software and has become my favorite strawberry jam recipe of all time!
4

cups crushed strawberries (discard stems and leaves)

1

cup jalapeno pepper (processed in food processer)
1⁄4 cup lemon juice

1

(1 3/4 ounce) package powdered fruit pectin (Sure-Jell Premium yellow box I prefer using 1 1/2 packages if strawberries are runnier)

7

cups granulated sugar (yes this is the right amount...it's jelly!)
Sterilize eight half pint canning jars with lids and rings, boiling for at least 5 minutes and kept hot.
Place the crushed strawberries (do not chop in a food processer; the texture will be too fine and choppy), processed jalapeno pepper, lemon juice and pectin into a large, heavy-bottomed saucepan; stir in the sugar to dissolve. Rapidly bring to a boil over high heat (long, slow boiling destroys the pectin). Once at a full rolling boil, cook for 1 full minute. One half teaspoon butter may be added to keep down the foam, if desired. Letting this mixture sit for about 5 minutes discourages the fruit from separating.
Pack the jam into the hot, sterilized jars, filling the jars to within 1/4 inch of the top. Run a knife or a thin spatula around the insides of the jars after they have been filled to remove any air bubbles. Wipe the rims of the jars with a moist paper towel to remove any food residue. Top with lids and screw on rings.
Process 10 minutes in a boiling water canner. Remove the jars and place onto a cloth-covered or heat-resistance surface. (While cooling, I shake frequently to redistribute content.) Allow to cool overnight. Store in a cool, dark area.