twissis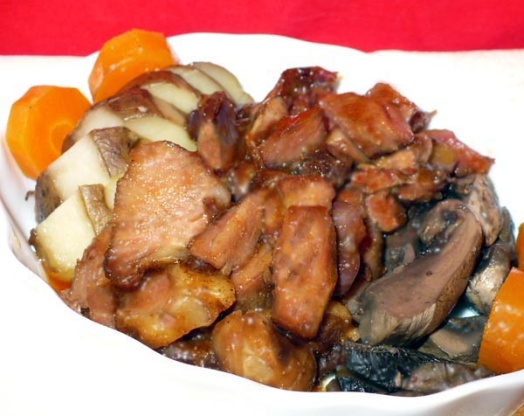 This is so yummy. Sweet but spicy at the same time. I cook this one heaps. Nice served with plain rice or noodles.

Yummy is right! *We* were actually of 2 minds on this dish. While we both liked it a lot, DH admitted he favors the natural goodness of the much-revered Icelandic lamb w/brown gravy, but *I* have the more adventurous palate & found this chg welcome from that norm. I was a step ahead in the prep as I used mixed lamb cuts that I had already cooked in my crockpot, so it was tender & well-seasoned. The sauce was a snap to fix, so it all came together in minutes. I served it w/carrot coins, potatoes + mushrooms from the crockpot meal, but it did not seem like leftovers at all as the sauce turned it into a tasty new meal. Yum! Thx for sharing this recipe w/us. :-)
Coat a pan with cooking spray, heat and cook lamb in 2 batches until browned and tender.
Remove from pan.
Combine the remaining ingredients in a bowl.
Remove pan from the heat, pour mixture into it, then replace on the heat.
Bring to the boil and add the cooked lamb.
Coat the lamb with the honey sauce.