teresas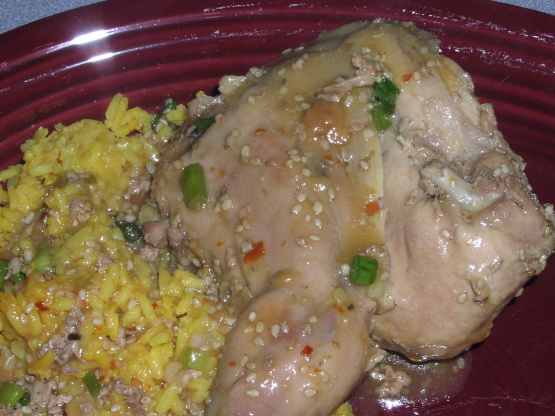 Now now, don't be thinkin' naughty!

DH and I really loved this recipe. We found it nice and tender. I did have to add lots more water due to it cooking away. The flavor's blended very well together. I did cut the recipe in half. There is just DH and I. But I doubled the chili peppers cuz we love things hot! I will be making again because you can never have too many Pheasant dishes. Thanks, Iowahorse for posting.
Cook the pheasant with the water, salt and chili peppers until tender, about 45 minutes.
Remove the pheasant.
Mix the soy sauce and 2 tablespoons flour, stir into boiling stock. Use soy sauce in small increments depending on how well you like it.
Cook over low heat, until it reaches the boiling point.
Return the pheasant pieces and add the scallions, garlic and sesame seeds.
Cook ten minutes and serve on rice.