Chef*Lee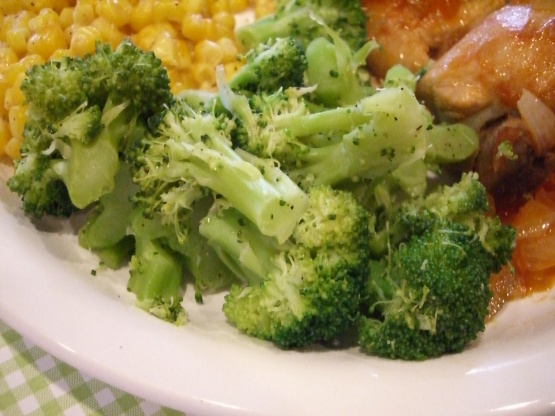 I think the lemon juice makes all the difference in the steamed broccoli!

So I'm a new "chef" and ran across this recipe and so thankful I did... my 13 yr old son who HATES broccoli actually asked for MORE! I steamed the broccoli in a glass steamer bowl in the microwave then added the lemon, fresh ground pepper, a tiny bit of garlic butter from Publix seafood department and pink himalayan salt (because thats what we use in the house! SO many health benefits!) It was easily the best broccoli I've ever made... my son & husband ... BOTH asked for MORE! YAY ME!!
Trim the broccoli into large florets.
Place the broccoli in a steaming basket over boiling water; cover and steam for 3 minutes.
Remove the lid for a moment, then cook, partially covered, until the stems are tender-firm, another 8-10 minutes.
Remove to a platter; season with salt and pepper, the butter, and the lemon juice.