loof751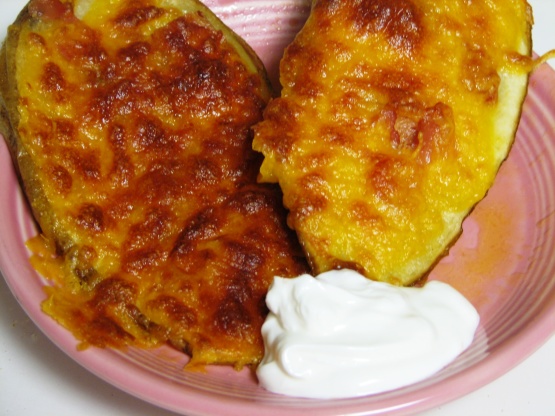 These potato skins are served up at a local restaurant and they are very good. Crispy with lots of flavor and you can vary to your likings. Enjoy!! I have updated this recipe to a broiler method. I met someone who used to work at this local restaurant and she informed me that they, in fact, broil them as opposed to deep frying. The broiler method is the best tasting and turn out with a much better texture.
Wash potatoes.
Put in gallon size storage or freezer bag and microwave for 10 minutes until fork tender.
Cut each potato into 1-inch thick slices, slicing along the short side of the potato (so when your done slicing you could actually stack them making them look like a whole potato again).Like a hassleback potato.
Line potatoes on foil lined baking sheet and brush lightly with vegetable oil on both sides.
Place on top rack under broiler and broil until brown.
Flip each potatoe over as it browns and brown on the other side.
When both sides are brown, remove from oven.
Add green onions, bacon bits, cheese or whatever other toppings you prefer and place back in oven untill cheese melts.
Serve with sour cream.