St George's Chicken Parcels
alligirl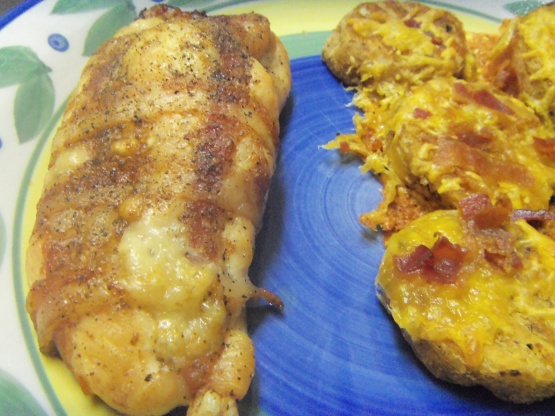 Serve these with roasted new potatoes and carrots. From "The Great British Kitchen" published by The British Food Trust.

Wonderful, tasty and left me wanting more! I only found plain derby at a little shop that has British imports, so I hoped that would suffice. It was wonderful, but I think a lovely cheddar or perhaps dubliner could be substituted with great success, for those wanting to try this. My breasts were huge, even after pounding, so it took closer to an hour to cook them. I liked how you explain to use the little 'pocket'; I assumed that was the tenderloin that was used to cover the cheese and close the pocket, so that is what I did. Cutting the bacon the way I did, even after reducing to 4 slices (for 2 people) made for 4 longer pieces and 8 shorter pieces. I think I could've done a cute basket weave, but I stopped myself short. Peppered and sizzled (the bacon grease helps with the cooking and the flavoring) this was such a delicious dinner, that I'm looking forward to the next time it is on the menu. Great payoff in flavor, for not too much work! Thanks so much for sharing this great recipe, threeovens!
For each breast, remove the loose fillet from the underside and flatten that, along with the breast, between sheets of plastic wrap, using a rolling pin or mallet.
Place a piece of cheese on each breast and cover with the fillet; season well with the pepper and make sure the chicken wraps around the cheese.
Preheat oven to 400 degrees F.
Cut the bacon in half lengthwise; use 4 pieces to wrap around each packet the long way.
Cut remaining bacon in half crosswise; wrap across each packet to form 2 crosses and secure with toothpicks.
Place parcels in a baking dish and roast, basting with the butter, for 30 to 40 minutes.