Spinach Pasta With Veggies and Parmesan
loof751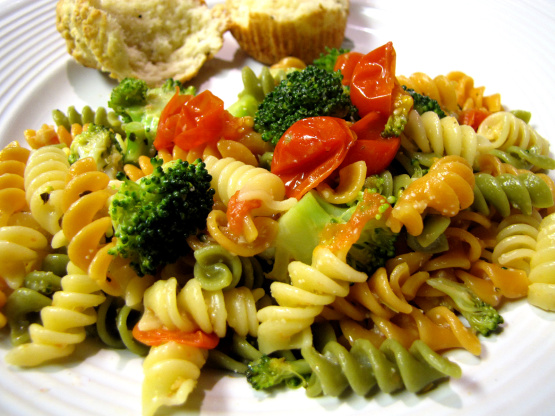 Delicious recipe with lots of healthy vegetables!

This is a yummy pasta dish that couldn't be simpler to make! I used tri-color pasta (regular, tomato, spinach) as I couldn't find any that was just spinach. The cooking time was perfect for the veggies - great dish - thanks for sharing the recipe! Made for Fall Pick-A-Chef 2011
Cook the pasta according to the package directions. Scoop out 1/2 cup of the pasta-cooking water and reserve. Drain the pasta and return to the cooking pot to keep warm.
Meanwhile, in a large nonstick skillet over medium-high heat, warm the oil. Add the garlic and basil or Italian seasoning.
Cook, stirring, about 1 minute, or until the garlic is just starting to turn golden.
Add the broccoli. Cover and cook, stirring several times, for 5 minutes.
Add the grape tomatoes and cook, stirring once, about 5 minutes longer, or until the broccoli is crisp-tender. If the mixture becomes dry, add up to 3 tablespoons water.
Add the vegetable mixture to the pasta, and season to taste with salt and pepper. Toss well, adding pasta water to moisten, if necessary. Top with the shaved Parmesan before serving.