Spinach Bacon Cream Puff Bake
Juenessa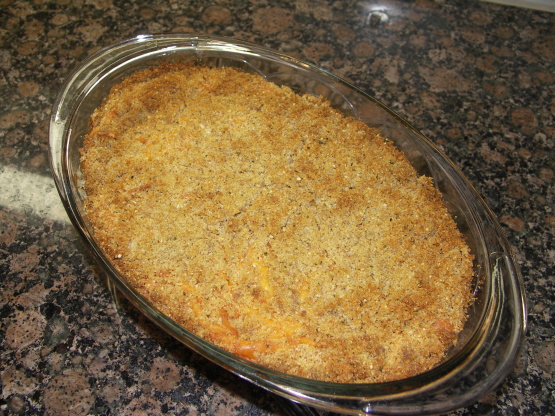 I like to cook my spinach in a microwave-safe bowl for about 8 minutes, then run under cold water then squeeze very dry, before I use it in a recipe, it will take the bitter taste out of the spinach, of coarse this is only optional.
Set oven to 350 degrees.
Butter a 2-quart round or oval baking dish.
In a bowl combine/whisk sour cream, egg yolks, flour, cayenne or black pepper; set aside.
In another bowl beat egg whites at high speed with an electric mixer until stiff peaks form.
Gently stir in the egg whites into the sour cream mixture.
Sprinkle HALF of the spinach into the bottom of the dish.
Top with HALF of the sour cream mixture.
Sprinkle HALF of the cheddar cheese over the sour cream mixture, then sprinkle ALL of the crumbled bacon on top of the sour cream.
Repeat layers ending with grated cheddar cheese (spinach, sour cream mixture then cheese on top).
In a small bowl combine the bread crumbs, Parmesan cheese and melted butter.
Sprinkle evenly over the top layer of cheese in the dish.
Bake uncovered for about 30-35 minutes, or until egg mixture is set.
Let stand 8 minutes (or more) before serving.