Spinach Bacon Cream Puff Bake
Prep 25 mins
Cook 30 mins
I like to cook my spinach in a microwave-safe bowl for about 8 minutes, then run under cold water then squeeze very dry, before I use it in a recipe, it will take the bitter taste out of the spinach, of coarse this is only optional.
Directions
Set oven to 350 degrees.
Butter a 2-quart round or oval baking dish.
In a bowl combine/whisk sour cream, egg yolks, flour, cayenne or black pepper; set aside.
In another bowl beat egg whites at high speed with an electric mixer until stiff peaks form.
Gently stir in the egg whites into the sour cream mixture.
Sprinkle HALF of the spinach into the bottom of the dish.
Top with HALF of the sour cream mixture.
Sprinkle HALF of the cheddar cheese over the sour cream mixture, then sprinkle ALL of the crumbled bacon on top of the sour cream.
Repeat layers ending with grated cheddar cheese (spinach, sour cream mixture then cheese on top).
In a small bowl combine the bread crumbs, Parmesan cheese and melted butter.
Sprinkle evenly over the top layer of cheese in the dish.
Bake uncovered for about 30-35 minutes, or until egg mixture is set.
Let stand 8 minutes (or more) before serving.
Most Helpful
This was a wonderful, main dish meal for us. We loved all the combination of flavors and the lightness of the eggs was outstanding! We ate this with a side salad and homemade bread. Thanks, Kitten for another wonderful recipe!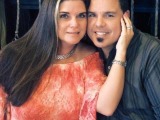 A yummy one dish meal and one of those recipes which really was fun to make. It was creamy and spinachy and wonderfully flavoursome, even with a few modifications to reduce the fat content. I used only half the bacon (middle rashers with all fat removed) which was enough for flavour; I used low fat sour cream (still beautifully creamy); I doubled the quantity of spinach and I added half an onion (minced) and four cloves of minced garlic, both lightly sautéed, then added to the spinach. I didn't use low fat cheese. I only made the mistake of using low fat cheese once; once was enough for me - it was tasteless! I also sprinkled a pinch of nutmeg into the sour cream mixture, and I used only half the melted butter, which worked out fine. Thank you for sharing this lovely recipe which I'll certainly make again!