Ryda Mae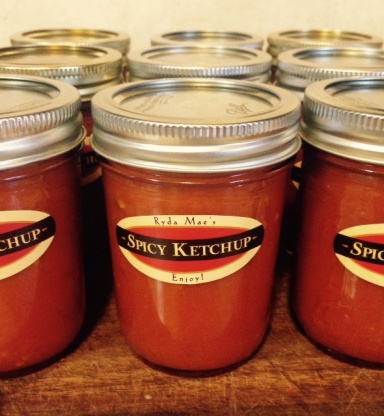 A spicy Jalapeno flavored homemade ketchup that is just so easy and so delicious. This recipe actually tastes just like ketchup. It's super easy and so dang delicious. Once you've made your first batch, you will NEVER want to buy store bought again. You're going to be very proud of yourself too.
Using at least a 3 quart sauce pan, medium heat, add your oil and saute your onions and jalapenos until tender, about 5-6 minutes.
Add your garlic and cook for about 1more minute, stirring all the way through.
Add tomato paste, salt and all your other spices to the pot. Stir well and cook for another minute. Now, add canned tomatoes, I use the juice from one can and poured off about half the juice from the second can (reserve just in case you need to thin).
Add remaining ingredients and stir to combine all.
Lower heat to a slow simmer and cook for 45 minutes. VERY IMPORTANT: Come back and check often and scrape the bottom of your pot good to prevent the settling particles from burning on the bottom. You will notice your mixture thickening up as you go along. Yes, you will not resist taking several taste-tests along the way, your going to be amazed.
Once your 45 minutes is up, let cool. Once cooled, you will want to blend well. An immersion blender works very well, but, you can sure use a countertop blender too, working in small batches.
I love to leave my ketchup a little chunky, but, you can also strain your ketchup for a more smooth texture. Just use a fines mesh strainer.
At this point, I pour into pint jars (I always triple the recipe, makes great gifts) and electric-pressure can my little jars of heaven, but you most certainly can store yours in a jar in the fridge, it's shelf life is about a month, but, don't worry, it will not last that long. Good luck!