berry271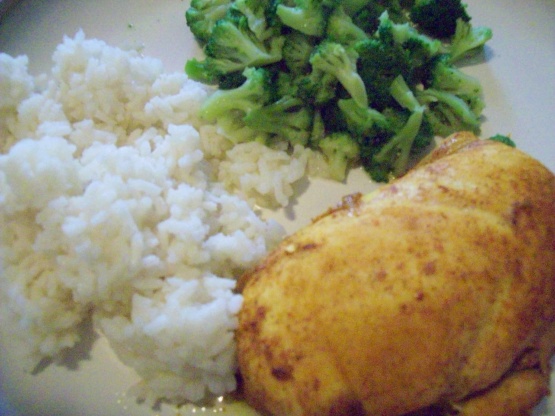 East Indian flavored chicken. Recipe calls for tenders but I think it would work just as well with skinless, boneless breasts or thighs if you adjust the cooking time (maybe baking for 15 minutes and then broiling). From the Dec/Jan 2011 issue of Taste of Home. Submitted by Carol Dodds.

Finally a recipe that I didn't alter, and I don't think I could improve upon it. Didn't have the overwhelming flavor of curry that I was afraid would be there, but was really quite good! Went well with a salad with a chicken salad dressing.
Combine water and spices and brush over both sides of the tenders.
Place in a resealable bag and marinade in fridge for 15 minutes.
Spray a broiler pan with cooking spray.
Place chicken on pan and broil 3 minutes on each side or until meat is no longer pink.