Spicy Asian Lettuce Wraps
Kim127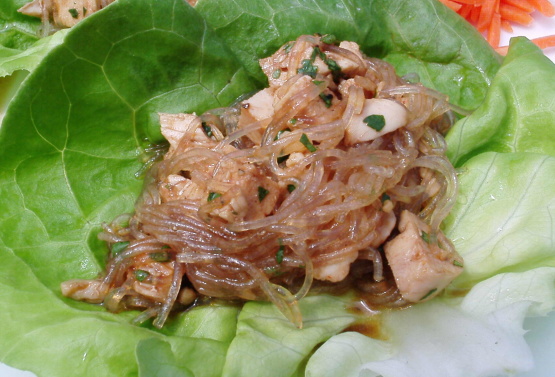 This recipe comes from Cooking Light's March 2005 issue. A great way to use up leftover chicken. Cooked, chopped shrimp or pork would work in these wraps also. Easy & Yummy!

Top Review by Kim127
This was one of my picks for the Spring 2007 PAC event. Extremely easy to put together. I used chili-garlic sauce instead of paste as that was what I had on hand. Also, I cannot wrap anything in lettuce to save my life, so after trying a couple of times, I simply placed the chicken mixture on a bed of lettuce and used a fork, lol. The taste was really good, but I love cilantro, DH wasn't as enthusiastic. The spiciness was just enough to put a little heat in your mouth without being overwhelming. A great quick lunch! Thanks Kater!
Cover bean threads with boiling water and let stand for 5 minutes, or until softened.
Drain, and rinse under cool water.
Chop noodles.
While bean threads soak, combine cilantro, soy sauce, chile paste and oil in a large bowl, stirring with a whisk.
Add noodles and chicken to soy sauce mixture; toss well to coat.
Spoon about 1/3 cup chicken mixture down center of each lettuce leaf, then roll up and enjoy!