Spicy Apple-Stuffed Squash
Bergy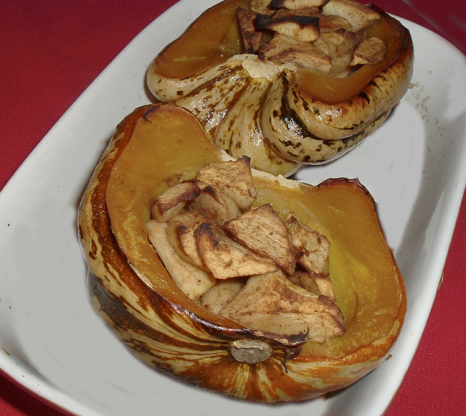 I really like the idea of apples and squash together. But I followed the recipe to the T and my squash was still not soft the way we like it. Next time I'll do the microwave method of cooking the squash. Also next time will use more cinnamon. Still the concept is great.
Preheat oven to 350-F degrees and lightly grease a 1-quart baking dish.
Halve squash, remove seeds, and cut into quarters.
Place quarters skin-side up in dish and bake, covered, for 30 minutes.
Meanwhile, in a medium bowl, combine apple, butter, brown sugar, cinnamon, nutmeg, and cloves.
Turn the squash's cut sides up and stuff them with the apple mix ture. Cover and bake for 30 minutes longer, or until apples are tender.
Serve warm.
Kitchen Staff Tip: If you're in a pinch for time, you may prepare this recipe in the microwave by preparing the squash as directed, placing cut-side up in a microwave- safe dish, and cooking on high for 6 or 7 minutes.
Make sure to rotate the squash halfway through cooking time. Top squash with the apple mixture, cover with vented plastic wrap, and microwave on high 4 to 5 minutes or until apples are tender.