Spiced Sweet Potatoes in Peaches
Syrinx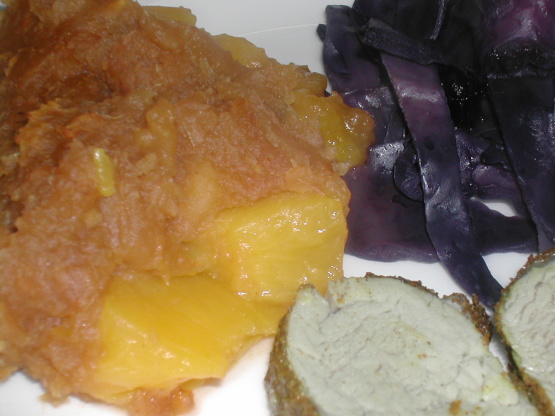 This is a fabulous side dish to bring along to holiday dinners using sweet potatoes without all the marshmallows and butter!

Top Review by Syrinx
Delicious and a bit different. I served it with spiced pork fillet and red cabbage, and the children loved it. I must apologise for the presentation of the finished dish in the photograph - when I opened the tin of peaches, I found that they were slices not halves, so I had to improvise with a casserole dish instead of making cute little stuffed peach halves. I'm sure this would look stunning when made properly! But appearance aside, it tasted very good; it's quite a sweet side dish, which is unusual for us, and we were pleasantly surprised. The hint of cloves and slght tang of lemon were just right. And it was very simple to make. Reviewed for Pick A Chef, Fall 2007.
Preheat oven to 400 degrees.
Combine potatoes, lemon juice, brown sugar and cloves.
Drain peach halves and arrange in baking dish.
Fill centers with sweet potatoes.
Bake for 20 minutes.